If you are looking for an adventure that is beyond the confines of the city, try an Ozark Cabin Retreat. There are miles and miles of beautiful Ozark scenery in the Arkansas and Missouri Ozarks. From the hills and mountains of the scenic byways of Northwest Arkansas to the bootheel of Missouri, you'll find something that you'll enjoy.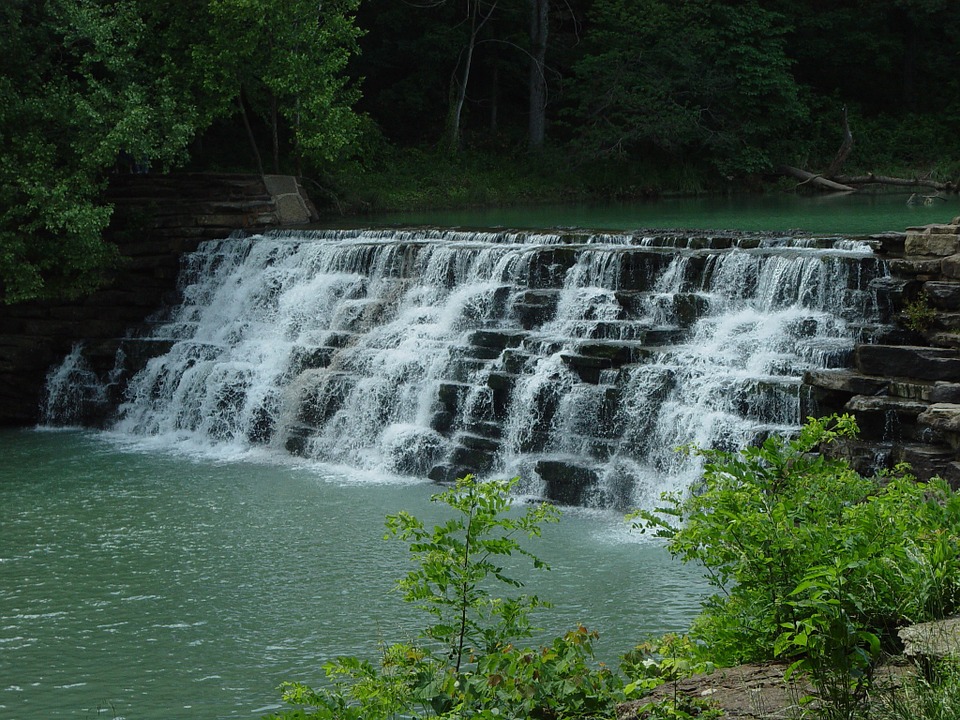 The Ozarks hold some of the best and most notable natural scenery that you cannot find anywhere else. Arkansas is known as the "Land of Opportunity" for its scenic lakes, rivers, and streams. Missouri is the "Show Me State" and lives up to its name for its many opportunities to see and experience life like you never have before. Get back to nature with an Ozark cabin retreat. Whether you are planning a romantic getaway for two, or a family event, try one of the following venues for a fun and exciting trek through the beauty of the Ozarks.
Top Ozark Cabin Retreats
Blanchard Springs Caverns– Blanchard Springs Caverns are a major attraction for people looking for an adventure of an archaeological nature. You'll find minerals that have been deposited by dropping water known as stalagmites. They are constantly changing and vary from cave to cave. If you're looking for a cabin to stay in while in the Blanchard Springs area, try the Blanchard Springs Caverns HomeAway site.
Hot Springs Village Cabins– If you have never been to the Hot Springs Village area, you're in for a treat. The tourism industry in Hot Springs is booming and features a number of excellent travel adventures including the famous Hot Springs Wax Museum, multiple tours through the city, and nature adventures. There is a fountain in the middle of the town of Hot Springs and the entire town is steeped in history and adventure. Start here to look for a great Hot Springs cabin rental opportunity.
Lake of the Ozarks- One of the most well-known areas in Missouri for vacationing and getting away from it all is the Lake of the Ozarks adventure. It is located in the heart of Missouri and includes world-class fishing and boating opportunities, golfing, shopping, and much more. There are many accommodations including restaurants, waterfront accommodations, and other venues at this site.
Dining Experiences- One of the best parts of getting away to a new area is the opportunity to try out new dining experiences. The Ozarks offer a great opportunity to try out new restaurants and eateries in the Ozark area. Follow our restaurants link above to see what type of dining is available once you decide which area you plan to visit. There are plenty of dining opportunities to take part wherever you go in the Ozark area.
Cabin Rentals
Beautiful Scenery
Eureka Springs, Arkansas also holds some beautiful surprises including natural springs and waterfalls, along with plenty of places to shop and relax. Many romantic getaways await you at Eureka Springs that hold adventure and romance for anyone who wants to visit. They welcome visitors in the area and love to lay out the red carpet for honeymooners and wedding parties, as well. Check out the many opportunities to experience the fun and adventure that awaits you in this romantic, lovely setting.
Do it Yourself Cabin Vacations
Ozark Cabin Getaway Conclusion
Check out our other vacation information on our site regularly as we show you some of the most fascinating vacation spots in the world. Whether it's a simple relaxing Ozark vacation or a world-class tour, we're your source for the best vacation tips and opportunities on the web. Please bookmark Cabin Spots and check back for more information coming soon.